Dr. Renee Perelmutter
---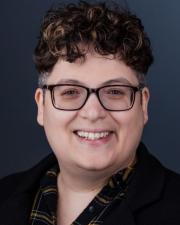 On Leave for 2023-2024
Professor
Director, Jewish Studies
Morphosyntax and Pragmatics of Slavic and Jewish Languages | Gendered Practices and Identities in Multiparticipant Discourse | Jewish Culture | General and Jewish Folklore
they/them/their
Biography
—
Renee Perelmutter is Associate Professor of Slavic Languages & Literatures and Director of Jewish Studies at the University of Kansas. They received a Ph.D from UC Berkeley. Dr. Perelmutter's research and teaching interests focus on morphosyntax and pragmatics of Slavic and Jewish languages, especially Russian, Hebrew, and Yiddish. Dr. Perelmutter's latest research has focused on the construction of gendered practices and identities in multiparticipant discourse.
Education
—
Ph.D. in Slavic Languages and Literatures, University of California, Berkeley, 2008
Research
—
Languages
Fluent: English, Hebrew, Russian (native), and Ukrainian.
Advanced level knowledge: Yiddish (heritage), Bulgarian, Czech, and Polish.
Reading knowledge: French, German, Old Church Slavic, Old Russian, Ruthenian, Old Norse, Middle Welsh
Teaching
—
Teaching interests:
Yiddish and Slavic morphosyntax and pragmatics
General and Jewish folklore
Jewish culture
Selected Publications
—
(Im)politeness and identity construction: Russian women's discourse online. (monograph, to be submitted to John Benjamins in Nov. 2015)
Edited Volume:
V. Driagina and R. Perelmutter (eds.). 2010. New Approaches to Slavic Verbs of Motion. Amsterdam: John Benjamins.
Articles:
(submitted) Israeli Russian Online: Variation and Performativity in an Immigrant Written Vernacular.
(forthcoming) "Israeli Russian," in Jewish Languages: An International Handbook, Benjamin Hary and Yaron Matras (ed), Mouton.
2015 "Shaming, group face, and identity construction in a Russian virtual community for women," in Interdisciplinary approaches to im/politeness, Marina Terkourafi (ed), John Benjamins. (forthcoming)
2014 "Resisting folklore: Folk belief and motherhood in Russian-language forums for women," Western Folklore 73:2-3, 257-279.
2013  "Klassika zhanra: The flamewar as a genre in the Russian blogosphere. Journal of Pragmatics 45: 74-89.         
2012  "Interactive Properties: Modern Russian predicate adjectives in affirmative and negative contexts." Russian Linguistics 36(1).                 
2011   "Deictic shifts in the Slavic translations from Hebrew associated with the Judaizers," in Translation and Tradition in Slavia Orthodoxa, B. Gasparov and V. Izmirlieva (eds), Lit Verlag, Slavische Sprachgeschichte, 5.
2010  "Impoliteness recycled: Subject ellipsis in Modern Russian complaint discourse." Journal of Pragmatics 42 (12), 3214-3231.                
2010  "Verbs of motion under negation in Modern Russian." in New approaches to Slavic verbs of motion, V. Driagina & R. Perelmutter (eds,) pp. 163-193.     
2010    with Viktoria Hasko. "Introduction. Verbs of motion in Slavic languages: New paths for  exploration." In New approaches to Slavic verbs of motion, Hasko, Viktoria and Renee Perelmutter (eds,) pp. 1-11. (effort each = 50%)
2009   "Pragmatic functions of reported speech with jako in the Old Russian Primary Chronicle." Journal of Historical Pragmatics, 10 (1), 108-131.
2008   "The language of dream reports and Dostoevsky's The Double." Slavic and East European Journal 52 (1), 55-86.
2006   with O.Gurevich, J. MacAnallen, E.Morabito, J. Platt, J. Nichols, and A. Timberlake.  "Lexicon and context in feminization in Russian." Russian Linguistics 30 (2), 175-212.
2005  "The choice of genitive/nominative in Russian absence constructions." Russian Linguistics 29 (3), 319-346.
Grants & Other Funded Activity
—
Internal: New Faculty General Research Fund, General Research Fund