Dr. Joseph L. Conrad
---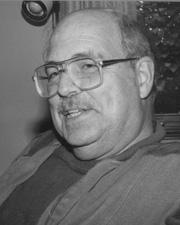 Biography
—
A prominent American Slavist and Professor of Slavic Languages and Literatures at the University of Kansas, Joseph L. Conrad was born June 26, 1933 in Kansas City, Missouri and died in Lawrence KS December 21, 2003. He is survived by his wife, Galina, a son and two daughters.
He earned his BA degree from the University of Kansas in 1955 and, after an academic year as a Fulbright scholar at Johann Wolfgang Goethe-Universität (Frankfurt), went on to doctoral work at the University of Texas at Austin, where he studied Slavic and Indo-European linguistics under Winfred Lehmann. His 1961 dissertation concerned the eccentric Soviet linguist, Nikolai Marr.
In 1959 he worked as Instructor and Assistant Professor at Florida State University, as Assistant Professor at the University of Texas until 1966, and in the same year moved to the University of Kansas, where he was hired as Chairman at the Associate Professor rank. He was promoted to Professor in 1970. During his time at Kansas he became involved in study abroad programs, accompanying students to the Soviet Union and Yugoslavia. In his research and teaching interests he redirected his attention from Indo-European linguistics to Russian literature and Slavic folklore. His writings on Chekhov and Turgenev gained him national and international reputation. His undergraduate course in Slavic Folklore was a perennial favorite among students, always enrolling to capacity.
He lectured by invitation in Germany, Croatia, Serbia, Slovenia, and Bulgaria. His numerous publications appeared in journals in the U.S., Germany, Bulgaria, Scotland, Serbia, and Canada. Among his students are several prominent Slavists in tenured positions in U.S. universities. He has served as a regional and national representative in the field in matters of conferences, study-abroad, educational policy, selection committees, academic exchanges, and editorial boards. Joseph continued working nearly to the end of his life. He attended the Congress of Slavists in Ljubljana, Slovenia, in August 2003. Though he was able to deliver his paper ''Devils and Devilry in Chekhov's 'Thieves/Vory','' health troubles on this trip were diagnosed as cancer upon his return to Lawrence.
Education
—
Ph.D. in Slavic and Indo-European Linguistics, University of Texas at Austin, 1961, Austin, Texas