Dr. Esra Predolac
---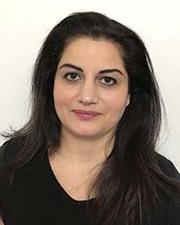 Multi-Term Lecturer
Language Coordinator, Turkish
Assistant Director CREES
Syntax and its interfaces | Clausal complements | Nominalizations | Embedded root phenomena | Extraposition | Second Language Acquisition
she/her/hers
Education
—
Ph.D., Cornell University, 2017
Research
—
Research interests:
Syntax and its interfaces
Clausal complements
Nominalizations
Embedded root phenomena
Extraposition
Second Language Acquisition
Teaching
—
Courses Recently Taught
Elementary Turkish I, II
Intermediate Turkish I, II
Advanced Readings in Turkish I, II
Selected Publications
—
"Bare CPs and Bare Object NPs in Turkish." Syntax, Phonology and Language Analysis 6 (SinFonIJA6) Proceedings (Forthcoming);
Ed. with A. Joseph. Proceedings of the 9th Workshop on Altaic Formal Linguistics (WAFL9). Cambridge, MA: MITWPL. 2015;
"Embedded Root Phenomena in Turkish." NE Linguistic Society (NELS) 43 Proceedings. 2014;
"A Paratactic Analysis of Ki-clauses in Turkish." Arizona Linguistics Circle 6 Proceedings. U. of Arizona. 2013;
Ed., with W. Browne, A. Cooper, et al. Formal Approaches to Slavic Linguistics 18: The Second Cornell Meeting 2009. Ann Arbor: Michigan Slavic Publications, U. of Michigan. 2011.