Dr. Andrew Denning
---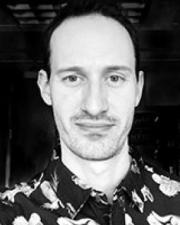 Associate Professor, History
Contact Info
Wescoe Hall, room 2610
1445 Jayhawk Blvd.
Lawrence, KS 66045
---
Biography
—
Andrew Denning studies mobility in twentieth-century Europe. He examines the movement of people, things, ideas, and practices to reconstruct transnational and global relationships, using the tools of cultural, technological, and environmental history. For an example of this work, see his recent article in American Historical Review on mobility in Nazi Germany. You can hear a podcast discussion of this work here.
 Dr. Denning has published articles in a wide range of publications, including American Historical Review, The Atlantic, Environmental History (winner of the 2014 Joel A. Tarr Envirotech Article Prize), and Central European History. His first book, Skiing into Modernity: A Cultural and Environmental History (University of California Press, 2015), examines the relationship between skiers and the Alpine environment since the late nineteenth century 
His new book project, Automotive Empire: Cars, Roads, and the Making of Colonial Africa, 1895-1940, argues that European powers used road infrastructure and motor vehicles to develop a distinct form of "automotive empire" in Africa. The study's trans-imperial approach draws connections among Belgian, British, French, German, and Italian colonies to show that the technological and infrastructural imperatives of motor vehicles and roads in Africa shaped the administration of empire, social relations between colonizer and colonized, and the culture of the automobile in Europe. Aspects of this research have appeared in Environmental History and Technology and Culture.
Dr. Denning held a fellowship at the University of British Columbia in Vancouver, Canada before coming to KU, and his work has been supported by grants from the American Council of Learned Societies, American Philosophical Society, German Academic Exchange Service (DAAD), International Olympic Committee, and Wolfsonian-FIU, as well as the Hall Center for the Humanities and the College of Liberal Arts and Sciences Research Excellence Initiative at the University of Kansas.
Dr. Denning encourages potential graduate applicants interested in working on twentieth-century western Europe and/or any of his thematic areas of expertise to contact him about graduate study at KU.
Education
—
Ph.D. in History, University of California, Davis
M.A. in History, University of California, Davis
Research
—
Research interests:
Twentieth-century Europe, particularly Germany, France, and Italy
Mobility, Environment, Technology, Leisure, Consumerism, & Empire
Selected Publications
—
"Deep Play? Video Games and the Historical Imaginary," American Historical Review 126, no. 1 (2021), 180-198.
"Mobilizing Empire: The Citroën Central Africa Expedition and the Interwar Civilizing Mission,"  Technology and Culture 61, no. 1 (Jan. 2020), 42-70.
"Infrastructural Propaganda: The Visual Culture of Colonial Roads and the Domestication of Nature in Italian East Africa," Environmental History 24, no. 2 (April 2019). 352-369.
"'Life is Movement, Movement is Life!': Mobility Politics and the Circulatory State in Nazi Germany," American Historical Review 123, no. 5 (Dec. 2018), 1479-1503.
Skiing into Modernity: A Cultural and Environmental History (Oakland: University of California Press, 2015).